Plan your exclusive event with us.
Featured in Vogue, Bride, Harper's Bazaar and many international publications.
Amidst the swarms of companies promising an unforgettable, Italian wedding experience, only one comes out firmly on top. Design Anarchy Italy is a lot more than your average luxury wedding planner. Going miles above what is expected, there is no detail too small or no request too big for us to handle.
Who we are – International Wedding Planners
The Design Anarchy Group is composed of a hand-picked, specially curated international team, each with a unique eye for what will take your wedding from ordinary, to extraordinary. It has taken 12 years to get to where we are today, to a level of expertise and individuality that we are proud of.
We have traversed the world, through brilliant green rice paddies in Bali to between the meandering canals of Amsterdam. We travel light, we travel often and we bring something back to remind us of that adventure. We pull inspiration from Italy's deeply ingrained cultural roots and from the melting pot of nationalities that make up the heart of London to embody something diverse and complete.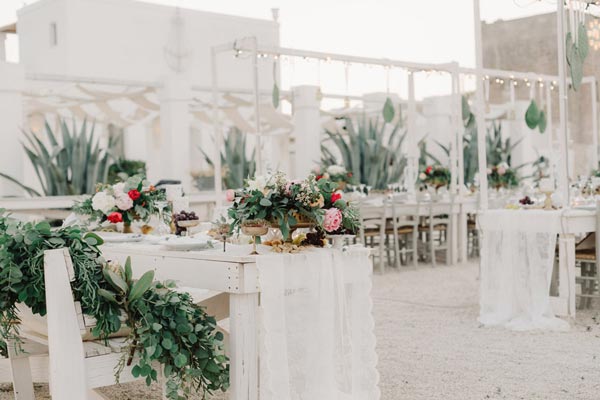 Design Anarchy is born from Italian roots because one cannot claim to be the best Italian wedding planners without having Italy in their blood.
That being said, we appreciate each and every culture this world is home to and encourage any tradition from the place you call home to be celebrated with us. Whatever – or wherever –  you identify as, we will work tirelessly to make the wedding you were born to have, a dream come true. We create something distinctly you – and nothing else.
Why Design Anarchy?
Where tradition and classic fairy tales leave off, a Design Anarchy event takes over and turns your event into something unlike you've ever seen before.
Don't get us wrong; we love a fairy tale wedding and we value tradition to the core, but we also love to take a different perspective on things. We love to elevate your wedding from exciting to a BLAST and from romantic to an idyllic DREAM.
It's that next step that sets Design Anarchy apart from the hoards of other Italian luxury wedding planners.
How do we achieve this?
We design artistically crafted weddings with the latest trends. This isn't your usual rice-toss or white flower petal ceremony. Think multicultural and multicoloured. Think heart and soul with heaps of personalized flair. Think old-school tradition mixed with playful spirit and unexpected details around every corner.
We keep you in mind each step of the way, making sure your wedding could never pass as someone else's event. Detailed consultations help us get to know you, your partner and your family. By the end, we may even feel like a part of your own family; let us craft a look inside your own world that you never knew could tangibly exist.
Bare-in-mind, letting us take this event into our own hands may surprise you, but in the best way possible.
Destination wedding planners
For over 10 years, we have been seeking the most luxurious and inspiring venues. During a consultation for your event, we start to pick apart which of those amazing venues would be right for you.
We host weddings across all of Italy, from the picturesque island of Capri to the historic streets of Rome, from the epic Dolomite mountain range to weddings on the Amalfi Coast, count on your location to excite and inspire.
No destination is untouchable by our team.
Your event should embody how you want to feel on this day and for the rest of your lives together. Don't hire a wedding planner who will take over and make it just any other wedding. Every detail we create for you will be uniquely yours and each guest will feel at home in your own creation.
It's more than just the venue or just the dress. It's about the staging of the photos that aren't staged at all, but rather capture all of the little moments of the event that you missed. It's about the pops of colour that highlight the landscape in discrete and beautiful ways and leave lasting, vivid images in your memory. It's about taking things from special to unforgettable with dramatic details.
Imagine, for example, chandeliers draped in crystal, dangling from centuries-old trees as guests dance and laugh beneath the stars. Picture ornate, classic dining halls with tables fit for a king, overflowing with seasonal fruits and vegetables that beg you to take a seat and indulge. Or enjoy simple, enjoy understated. Just you and your partner, in the destination of a lifetime with nothing to distract from the dramatic landscape that surrounds you and your party.
Whatever calls to you is what we will arrange to the fullest extent.
Why we are different
Our events are unconventional in the best ways.
Sometimes our brides don't wear white, they wear black.
Sometimes we don't have passed apps, a 4-course meal, and a traditional cake cutting. Instead, grazing tables and buffet-style meals served hot from a brick-oven are arranged.
Sometimes our guests are barefoot in the sand or on the grass. Sometimes they're clad in black-tie formalwear. Sometimes they're in costume.
Nothing about our events screams traditional wedding, as compared with other wedding planners. But that's what makes us so special.
At Design Anarchy, you aren't just another event or Roman destination wedding to us; you are our guest. Trusting us with the most important day of your life is something not to be overlooked, and neither are you.
So why should you be?
Make a bold choice because you want to. Choose an unusual way because everyone will remember it. Be unique, be spectacular, be YOU.
With so many options of luxury wedding planners in Italy we ask you to consider; how do you want to remember this day for the rest of your lives? Let that decision guide you to an entertaining and enchanting adventure in planning your Italian luxury wedding with Design Anarchy.